Our Values at Oxford Analytical
We work to our 4 key values in everything that we do at Oxford Analytical. These values link together and drive our strategy for growth and development.
One does not exist without the other and each is a vital part of our core delivery.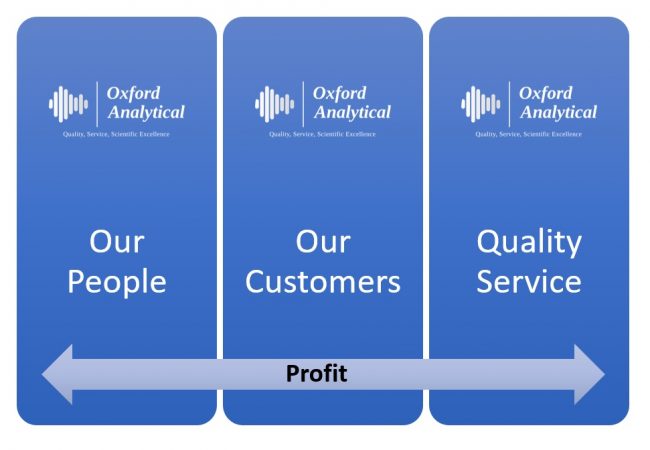 We put our people first.
We look after our people at all levels, working with agile methodology to give everybody a voice and make sure everybody counts.
We value our people because they are what makes our business.
We have a team of highly skilled individuals covering a diverse range of scientific, business and quality skills.
We want to retain and nurture them, allowing them to develop to their full potential.
We work to a get it right first-time system, but we understand people will make mistakes from time to time. We are only human – we encourage our people to learn from those mistakes and grow from them.
This value means our team support each other too. They are motivated and strong, and we are very proud of each and every one of them.
Our customers are what drives our business. They keep us going, which means that we can invest in growth and look after our people.
We strive to work flexibly with our customers to meet their needs in an ever-changing environment. Product regulation is constantly changing and we understand this poses challenges to our customers.
The world is going greener; we need to protect our natural resources. To support this, we develop new agile ways of working, striving to provide continuous support to meet the needs of our customers.
Our customers are both those who provide us with work, and those who we provide work to – our suppliers. We build strong relationships with our stakeholders to ensure a smooth and continuous supply chain.
Quality isn't just how we do things – it's what we do, and we are good at it.
Our work is compliant to Good Laboratory Practice (GLP) and we plan to develop into other standards over time. We use agile and lean ways of working to get the best from the business. This drives our quality standards, giving our people a sense of achievement (and a great looking Linkedin profile!).
Our quality standards give our customers reassurance that we will provide a flexible, highly skilled technical service at an incredibly high standard.
We plan to develop our systems and bring quality into the digital age, making use of the best software development teams to align quality, data integrity, efficiency and customer service into one streamlined system.
Every business is driven by profit. For some it drives everything else, for us, everything else drives the profit.
We strongly believe that by looking after people, customers and quality that the profit comes naturally.
Its importance is vital. Without profit we are unable invest in growth, people, customers or quality, and we want to keep growing and improving on what we do.