Our Team at Oxford Analytical
Our team at Oxford Analytical are highly skilled and dedicated to what we do.  Our values drive our employee engagement and supports the development of our people at all levels.
We have subject matter experts in areas such as ICP-OES/MS and LC-MS/MS, as well as HPLC, IC and GC techniques.
The analytical team are supported by strong Management that can cover the technical, business and quality management aspects of the laboratory functions, allowing the team to focus on their goals and passions.
We support Agile working and appreciate all of the team equally – they all bring something different to the table. We won't be shouting out about the senior leaders – but we might be celebrating a job well done by the team – or an individual that has shone through.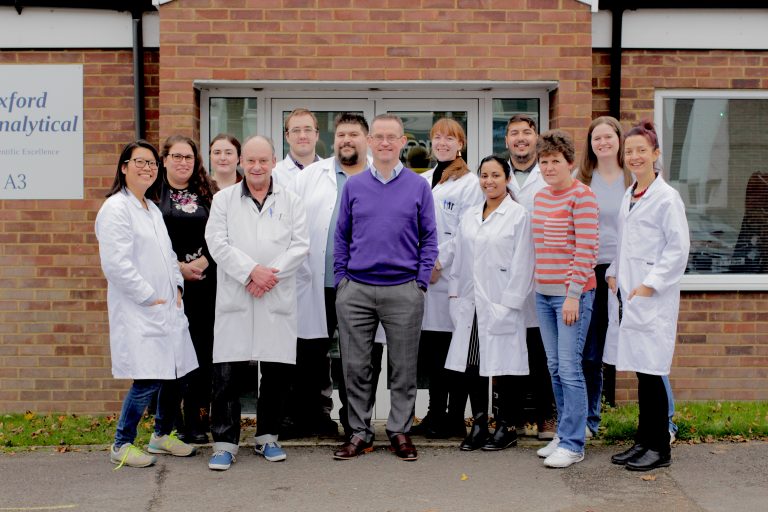 As a group we look after the business together, in many different ways. We have a structure that supports Agile alongside having the traditional hierarchy that is required of GLP.
Our team structure starts with the GLP Operator – the Director.
Supported by Test Facility Management that cover their own functions (business and technical).
We have team leaders, Study Directors, Senior and Junior Analysts as well as Quality and Admin staff, but each role relies on the others to work successfully.
We are a small team but plan to grow sustainably and strongly.
If you would be interested in joining our team at Oxford Analytical, we always welcome CV's.  Please contact us to submit yours.
We are always keen to see talent that could cover the following areas:
Strong experience with CRD guidelines around storage stability and physical chemical testing, ideally to GLP.
Graduates with some experience looking to develop their skills and happy to get stuck into all aspects of laboratory life.
Strong analytical chemists with experience preferably in biocides/pesticides in a compliant environment.
Experienced GLP Study Directors in 5 batch analysis, Storage Stability and method validation for pesticides and biocide registration.
Undergraduates looking for some practical experience via work experience placements.