Pyrethrum Extract Testing
Pyrethrum Extract Testing – Pyrethrum has been used for centuries as an insecticide. It is one of the most commonly used non-synthetic insecticides allowed in certified organic agriculture. The flowers should be dried and then crushed and mixed with water.
Pyrethroids are synthetic insecticides based on natural pyrethrum (pyrethrins); one common example is permethrin. 
Pyrethrum is one of the oldest natural insecticides in use in the world today, and it has one of the best safety records of all insecticides. It is a mixture of several esters, called pyrethrins, which are extracted from flowers belonging to the genus Chrysanthemum. Natural pyrethrins are unstable to light and are therefore unsuitable for residual application, particularly in agriculture. This led to the development of several classes of related synthetic compounds which have a higher stability to light and a high insecticidal activity. They are known as pyrethroids.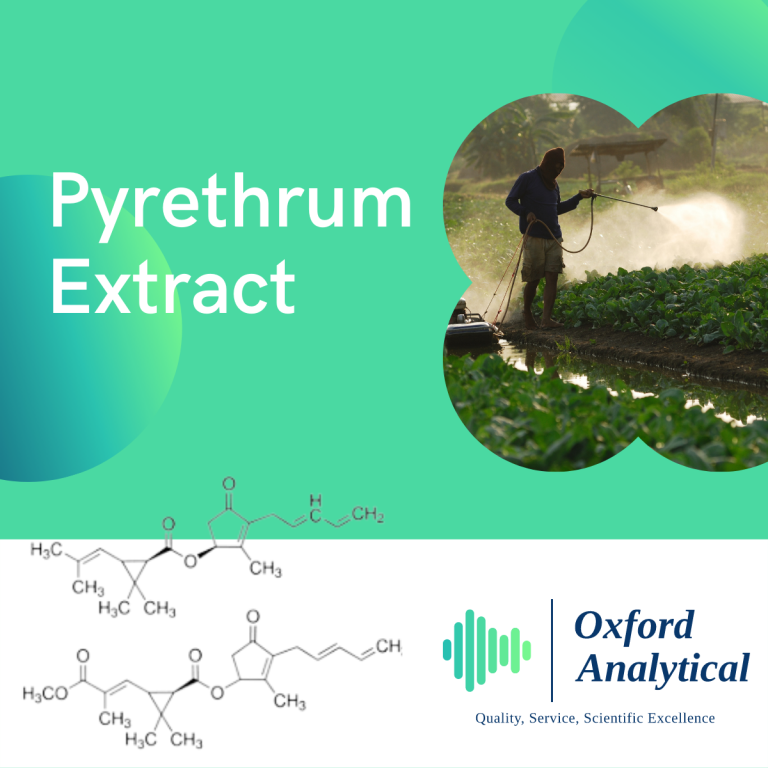 How can we help with your testing requirements?
We have established methods using High Performance Liquid Chromatography (HPLC) for various types of Pyrethrins based products.
Whether as a single active or part of something more complex we can develop and validate methods to support your registration requirements.
Helping you through the Biocidal Products Regulations to be able to market your product and providing stability and safety data through various physical and chemical testing.
These tests can all be done in compliance with GLP where required, and if the formal certification is not required you can still rest assured that all of our processes are carried out following the same high-quality standards even when outside of GLP.
We partner with consultants and other laboratories to support additional testing requirements too – so if we can't do it, we will help you find someone who can through our trusted network.
Please contact us for further discussion of your particular Pyrethrin testing requirements.